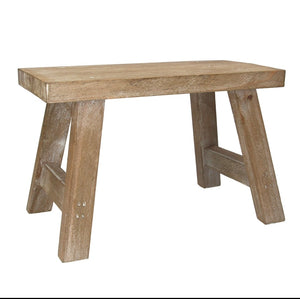 Who doesn't love a Rustic wooden pedestal!
Finished in a natural wooden finish, ideal to place on top plants, homeware, candles or if your feeling fancy...next to your bath displaying your favourite towels and creams. These are also the perfect size for your kitchen side to display anything you chose. 
Here at Our Little Nest Interiors, I have displayed on mine glass hand wash bottles and my wooden secateurs and a candle and I love it!
Please note these are a natural item so may contain "imperfections"...once again adding to charm of these stools. These are 100% Fir wood. 
H 20 x L 30.5 x W 18cm
Also available in a larger size.